Peavine Creek Farm's
Horseback Riding
&
Lesson Program



Trail Rides



Both E-mail, Text or Call for Detailed Information
423-710-5747





OPEN CHRISTMAS
LESSONS & TRAIL RIDES
GIFT CARDS (AVAILABLE VIA SNAIL MAIL)


OPEN
Open Today 10am TO 10pm
Thanksgiving
&
Christmas Day
&
Holidays
By Appointment
Open Daily Year Round from 10am to 10pm!

Horseback Riding
GIFT CERTIFICATES
available 423-710-5747

July 2015
Call us about our Weekend Camps, New Year's Eve Camps,
Easter Camps, Halloween Camps & Spring Break Camps.
E-mail for more information: peavinecreek@gmail.com

New Inquiriers, Horse Clients, Puppy Customers & Friends:

PLEASE INCLUDE YOUR TELEPHONE
NUMBER(s) IN YOUR E-MAILS/TEXTS TO ME.

423-710-5747




For me to reply to requests, please either text or email & voice mail if you don't reach me by phone. I cannot always check texts & emails due to my responsibility to horseback riders.

Thanks Much!

Experience the Difference!
Teressa Elaine Phillips - Owner/Trainer/Instructor/Manager

Member of:
united Professional Horseman's Association
American Saddlebred Horse Association
American Quarter Horse Association
ASHA Youth Club

Certified Teacher ~ College Graduate Educational Degree
In our horseback riding LESSON programs, we strive to advance horsemanship and skill levels and to incorporate horse FuN activities along with the LESSONS and horse activity programs. We allow individual riding students, who have special interests, desires and goals, to spend some of their lesson schedules with the show horses.
We also allow students to access the trails when desired with no additional charges

We guarantee advancement in all aspects of riding, training and horse care. We involve the students in teaching, training, horse care, grooming and feeding programs, as well as individual and group lesson sessions. We put special emphasis on each rider's individual goals and future horse related desires.

We are a professional horse training facility and horseback riding academy. We offer training of horses and riders from beginning stages of training and riding to highly competitive horse showing, as well as teaching those to ride for pleasure and the sheer love of being around and enjoying horses. You do not need to own a horse to participate or to learn or advance. We teach beginners, intermediate and advanced riders of ALL ages.

Our lessons normally range from 1 to 2 1/2 hours, private or group. When in a group, we often saddle each horse in a different style, i.e., Western, Saddleseat English, Huntseat English, & bareback, allowing the students, when they desire, to change horses, learning each style of riding throughout the lesson time.

Your are welcomed to call for details or further questions. Feel free to call us at 423-710-5747. We are open 7 days a week - 10 AM to 10 PM. We also provide professional, business and personal references upon request.
"Sky with Kendyl learning to ride Bareback"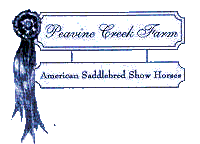 American Saddlebreds
&
American Quarter Horses
Riders & Visitors Welcome by Appointment

~ Thank You!

"Everyone rides at Peavine Creek!"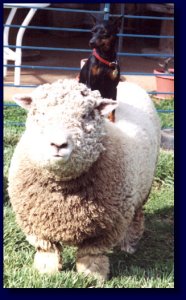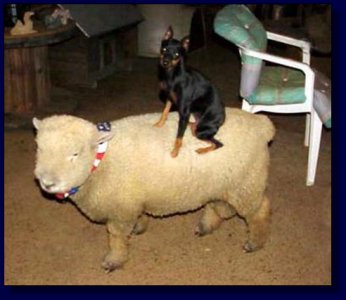 (Click photos to enlarge)
Lisa Marie, daughter of Tiny Elvis, riding Porkchop, aka Porky!!
"Skye & Rider"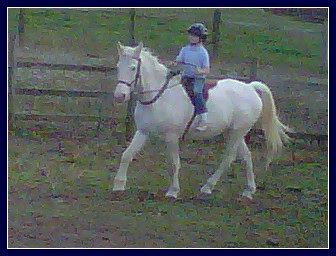 (Click photos to enlarge)
A young student taking lessons at Peavine Creek.
"Sarah Pimentel"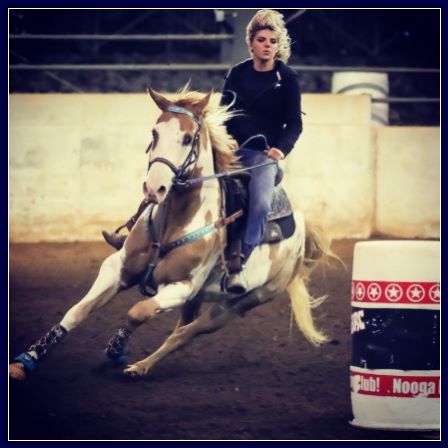 (Click photos to enlarge)
Sarah, that learned to ride at Peavine Creek Farm,
and her Paint Chocolate Chip barrel horse.
Photo by Kacy Todd
"Huntseat Lessons"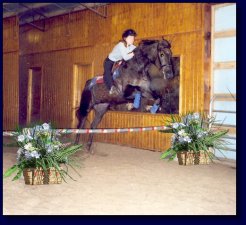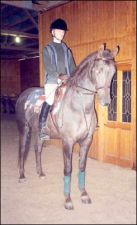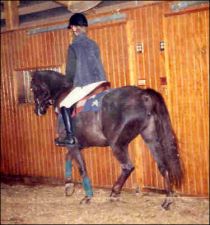 (Cilck photos to enlarge)
"Paris"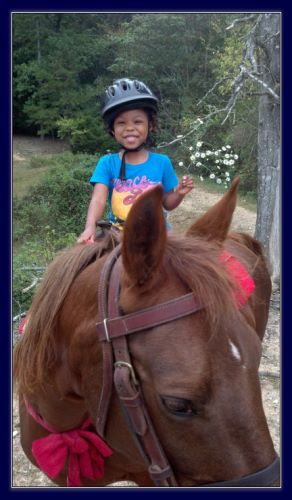 (Click photos to enlarge)
Four year old, Paris, taking a riding lesson.
Instructed by PEAVINE CREEK FARM & Terre Phillips
"Ziggy"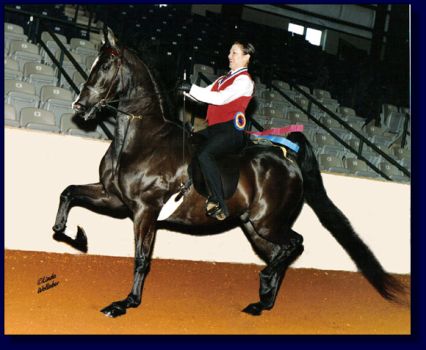 (Click image to enlarge)
2004 National Academy Finals Championship Winner, 13 - 17 years

Rider: Amy Deal


Another National Academy Champion taught by Peavine Creek Farm!!!
untouched Photography by Linda Wollaber/Animal Images, Copyright ©, Scott Depot, WV


"Copper Coin"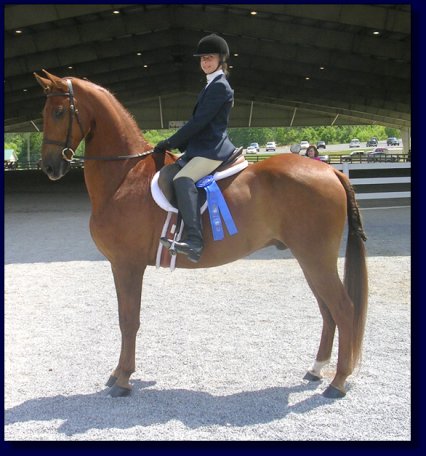 (Click image to enlarge)
Proof of the versatility of our HORSEBACK RIDING PROGRAM's teaching & training ability. The Versatile Americn Saddlebred, Copper Coin, under Huntseat tack winning 2 blues in 2006 with the elegant riding Shelby Embry, Instructed and trained by the Versatile riding style instructor, Terre Phillips, of Peavine Creek Farm
"Crack The Sky"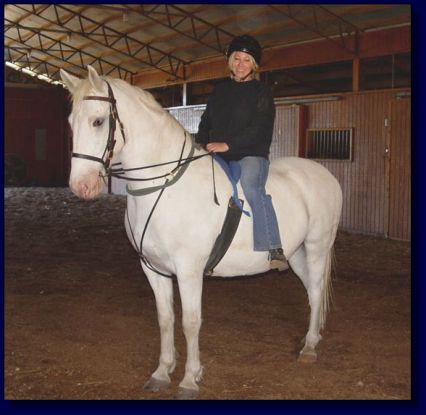 Photo by Flealips Photography
(Click image to enlarge)
CRACK THE SKY giving a BAREBACK LESSON We teach ENGLISH SADDLESEAT & HuNTSEAT and WESTERN STOCK SEAT.
Horseback Riding Lessons
Adults Children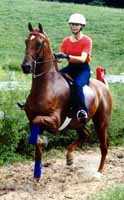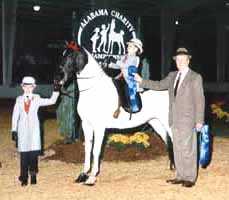 (Click image to enlarge)
Carla Koeffler ~ Randall Norman ~ with Bethany Sexton
Horseback Riding Lessons
Training ~ Boarding ~ Trail Riding
Camps ~ Horse Shows ~ Tournaments ~ Pony Rides ~ Parties
Horse Seminars ~ Field Trips ~ Demonstrations



Group Riding Lessons
First horse on left in photo below is for sale listed above ~ Horses from left to right: Perfect Moody aka Cowboy, Saber (listed on our 'Horses For Sale' page), Golden Mist aka Patootie (Sold), Crack The Sky (For Sale), The System's Wings aka Syster (Sold), uptown Merchant aka Chant (Sold).
(Click image to enlarge)


American Saddlebreds ~ American Quarter Horses
Arabians ~ Paints ~ Miniature Donkeys
Hunter/Jumpers, crossbreeds, Morgans
Ponies ~ Mustangs ~ Mules ~ Burros

Horses for Sale

w/installment options/within your budget

Horses for Lease

per month (w/purchase options)
per horse show ~ per season
Central Heat & Air
Office/Lounge
Full Bath
Laundry Room
3 Tack Rooms
Exercise/Workout Room
Work Shop
Feed Room
Shavings/Sawdust Room
Hay Room
Monitored Security Surveillance System
Monitored Smoke Detector System
Enlarged Viewing Room
2 Shop Rooms
Leaded Glass Doors
Live-in Caretakers
Indoor Insulated Stables & Arena (210' x 58')
Two Large Outdoor Arenas
Indoor Round Pen (50' x 50')
Outdoor Round Pen (55' x 55')
Insulated Stalls (12 x 12') w/high velocity fans
Broodmare Stalls (12' x 16') all stalls cleaned 3x's daily!

Although we primarily are an American Saddlebred training facility and horseback riding academy, we are unlimited to different breeds of horses and styles of riding. I have had many years of experience with other breeds, including American Quarter Horses, Arabians and Morgans. I also judge horse shows of other horse breeds. We can advance you in the various styles and disciplines of horseback riding, as well as assist and/or introduce you to various breeds of horses.


Horseback Riding Lessons
English & Western
All Ages
Beginner ~ Intermediate ~ Advanced
"Sand's Incredible Heiress, aka Gracie"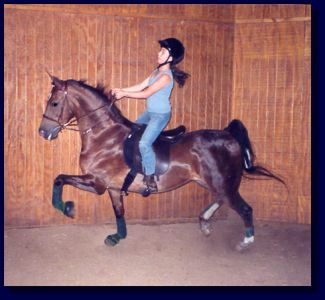 (Click photo to enlarge)
Gracie with beginner student, Sarah Jones, up
All Disciplines
English & Western
Saddleseat ~ Huntseat ~ Dressage ~ Stockseat
All Lesson Programs Include Instruction for:
Horse Shows ~ Pleasure Riding ~ Trail Riding ~ Showing
Horse Care & Grooming ~ Feeding Program ~ Stable Management
Training & Teaching
We Teach Teachers
We Instruct Instructors
We Train Trainers
Trail & Pleasure Riding
"Perfect Moon, aka Cowboy"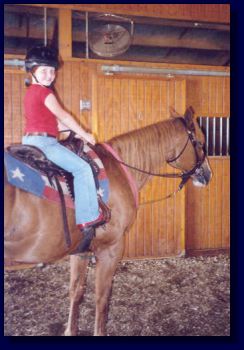 (Click photo to enlarge)
Perfect Moon, aka 'Cowboy', with Sydney up..a seven year old
riding student taking a western riding lesson along with a trail ride.
Parties
E-mail or Call for More Information!
Rates per hour/group/age
Birthdays ~ Girl & Boy Scouts
Holidays ~ Picnics
Church Groups ~ Group Functions ~ Carnivals
Holiday Parties
E-mail or Call for Detailed Information
Holiday Rides ~ Easter Egg Hunt Rides/Picnics
Halloween Costume Rides
New Year's Eve Cookouts & Fireworks
Kids ride into the New Year, while Mom & Dad have night off!
Camps
E-mail or Call for Detailed Information
Overnight ~ Weekend ~ Week ~ Holidays
Click here for more information



on Peavine Creek's Riding Camps!
Camp Activities
Horse Care ~ Grooming ~ Horse Shows ~ Trail Rides
Camp Fires ~ Carriage Rides ~ Cook Outs ~ Riding Lessons
Seminars ~ Equine Water Sports
Equine Art Class ~ Horseback Games
Click here for more photos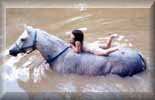 of Equine Water Sports & Games!
Equine Educational Activities ~ Seminars
Demonstrations ~ Field Trips
(Click photo to enlarge)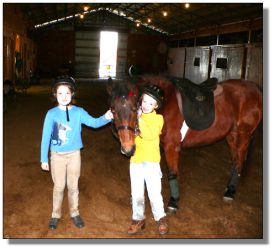 Riding students, Mary Lillian and Isabel with "Miranda" ~ American Saddlebred/Hackney Cross Pony.
"There is no secret so close as that between a rider and his horse."
...Contributed


- Contents -
You are on "Our Riding Program" Page now!
Go to Horses For Sale Page
Go to Dogs For Sale Page
Go to Tack & Tails For Sale Page
Go to Our Camp Program Page
Go to Equine Water Sports & Games Page
Go to Parties Page
Go to Trail Rides Page
Go to Horses Bought & Sold Page
Go to Horse Shows Page
Go to Mules & Donkeys Page
Go to Our Favorite Pets Page
Go to Our Photos Around The Farm Page
Go to The Stallion Services Page
Go to Our Favorite Links Page
Go to Horse Transportation Page
Return to Peavine Creek Farm's Home Page

Peavine Creek Farm
Terre Phillips
Ringgold, Georgia 30736 uSA
423-710-5747

Please EMAIL & VOICE MAIL.
Can NOT retrieve TEXTS.

LOCATED near Ft. Oglethorpe, Georgia, 4 miles over the GA/TN state line on I-75,
and 2 miles off the I-75 Exit 350 ramp, 12 miles Southeast of downtown Chattanooga
Call, Text (423-710-5747) or E-mail for precise directions and more information. Thank you.



peavinecreek@gmail.com

Last updated:
Web Design by Dayle Haworth
Copyright © 2000-2020 ~ Peavine Creek Farm ~ All Rights Reserved